7th Dryade international druid camp 2016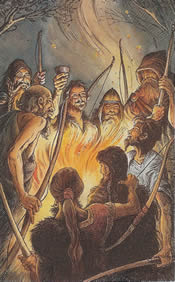 Started in 2008, now for the 7th time Dryade organizes an international camp for bards, ovates and druids, and friends, which will take place in the Netherlands.
(last update of this website was on 24 May 2016 - consult the update history page.)
(9) 10-11-12 June 2016
This camp will be open to participants from Friday 10 June 2016, 9 am.
Especially for participants from abroad, Thursday evening (after 6 pm) will give you the opportunity to settle, and meet and talk to old and new friends by the campfire!

The opening ceremony of this camp is scheduled right after lunch on Friday.
After that, we offer some days with ceremonies, a diversity of workshops, a market, Eisteddfodau, grove meetings, concerts, and more.
The number of participants to this camp is restricted to 150;
Registration is open from Samhuinn 2015.
update 2nd Nov.: camp places 50% booked already!
update 9th Nov.: 100 participants have booked.
update 19th Nov.: only 15 places left.
update 24th Nov.: only a few places left.
update 9th Dec.: This camp is fully booked now.